Whitcomb Drive Roadway & Drainage Improvements
CIP: 02107099
BCC Districts 2
Overview
Seminole County is hosting a public meeting to provide the community with a project update, showing the efforts made in advancing this initiative, and addressing the challenges of easement acquisitions, which will assist in bringing this project to a close.
Following the first Public Meeting held on June 18th, 2019, Seminole County Public Works team has been diligently working to acquire all the necessary easement donations, which are vital to completing the design and permit phase of this project. Obtaining all required easements is crucial to propel the project into its next phase successfully.
As you know, Whitcomb Drive has consistently faced prolonged flooding due to high lake levels and historical drainage issues. We invite you to join the meeting and contribute your insights, partnering with the County to address and resolve this pressing concern. Your participation is crucial in finding a solution.
---
Upcoming Public Meeting
The second public meeting for this project will be held on:
WHEN:
Thursday, September 21, 2023
6pm – 7p.m.
WHERE:
Danville Bed and Breakfast
232 N Jungle Rd,
Geneva, FL 32732
Public feedback is also accepted through the Comment Form below. Comment Period ends September 28, 2023.
---
Project Location Map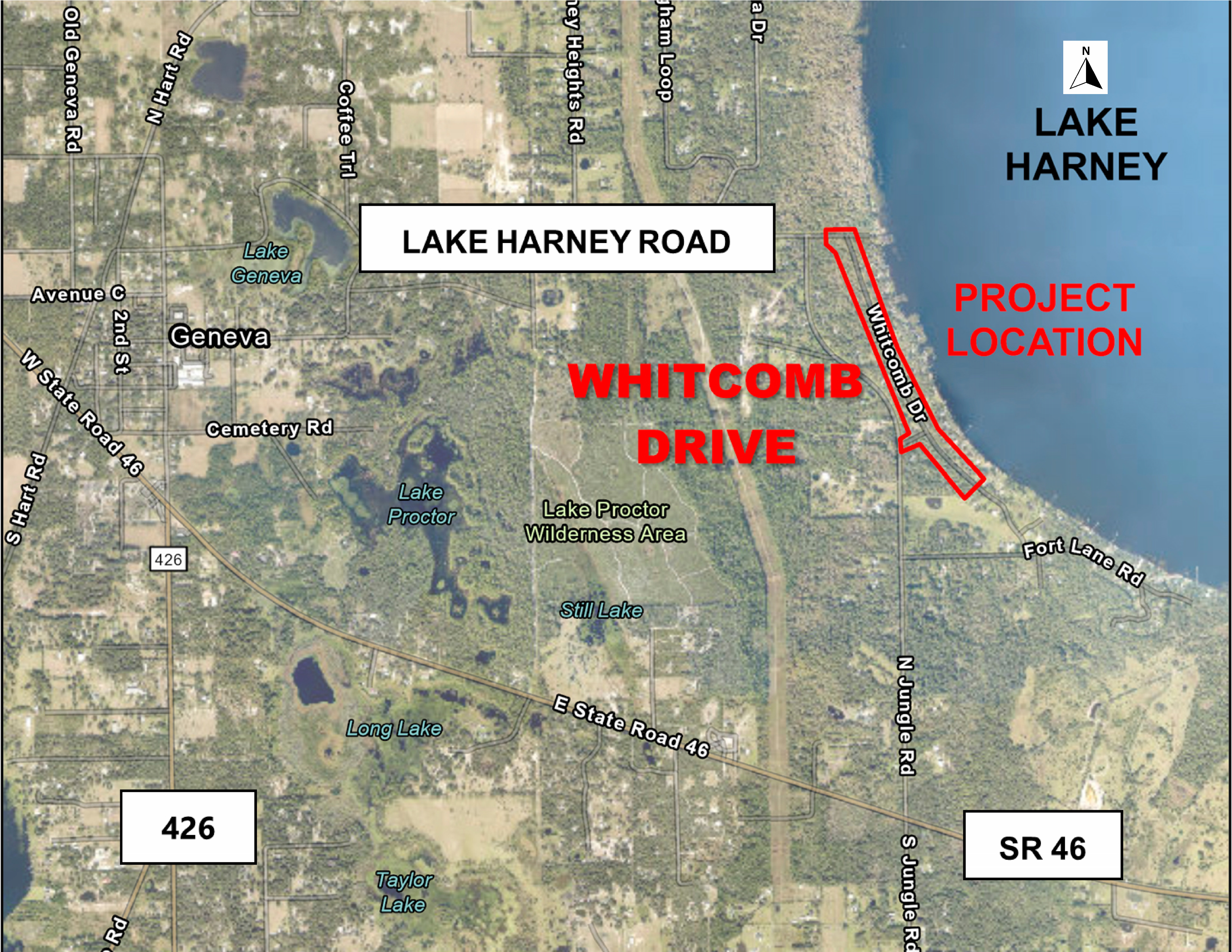 ---
Project Documents
---
Contact Us
Should you have any questions prior to the meeting, please contact the Seminole County Public Works Engineering Division Project Manager Jedious Aggrey, by email at jaggrey@seminolecountyfl.gov or by phone at 407-665-5707.
ADA Accommodation: Persons with disabilities needing assistance to participate in any of these proceedings should contact the Human Resources ADA Coordinator 48 hours in advance of the meeting at 407-665-7940.
---
Comment Form