Drowning is the leading cause of injury-related death for children ages one to four in Florida.
---
---
The Seminole County Fire Department is committed to working with residents and community partners to prevent pediatric drownings.
In partnership with the Gunner Martin Foundation, Seminole County residents with a pool or nearby body of water, can pick up a free* pool alarm at the Central Branch Library, located at 215 N Oxford Road in Casselberry. Seminole County Fire Department and Seminole County Government has partnered with the foundation to educate the public on drowning prevention efforts.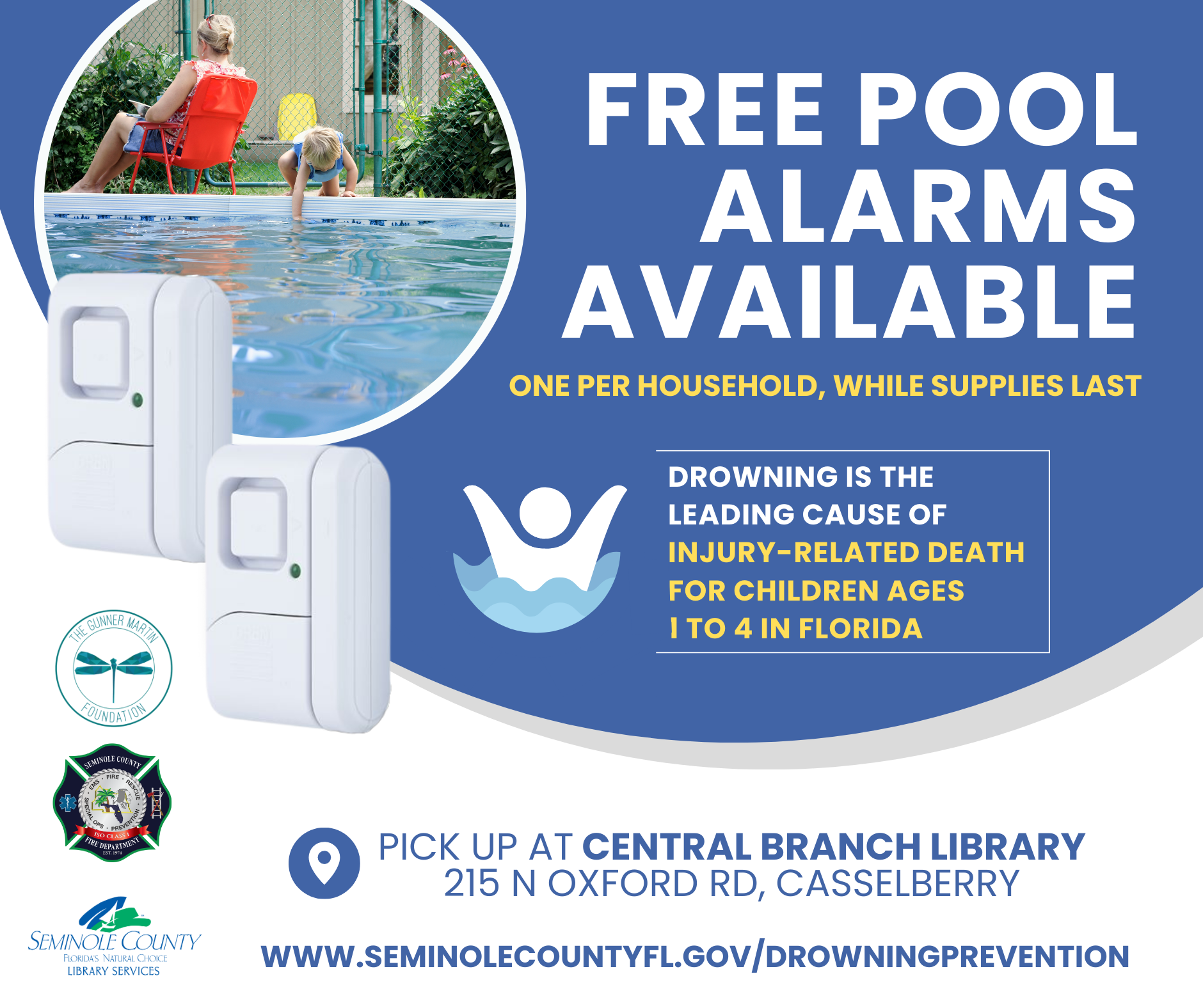 About the Gunner Martin Foundation: Chris and Christina Martin tragically lost their two-year-old son Gunner in 2016 when they thought he was taking a nap. Chris is now a Seminole County Fire Department Firefighter and he and his wife are dedicated to drowning prevention advocacy.
*While supplies last, one per household.
The ABCs of Swim Safety
A is for ADULT SUPERVISION
The first and most crucial layer of protection means a responsible adult is always actively watching when a child is in or near a pool. The Seminole County Fire Department provides free "Water Watcher" wearable lanyards/cards to designate adults for supervision. This is extremely important during parties around pools.
B is for BARRIERS
A child should never be able to enter the pool area unaccompanied by an adult. Barriers physically block a child from a pool. Barriers include child-proof locks on all doors, a pool fence with self-latching and self-closing gates, as well as door and pool alarms.
C is for CLASSES
With so many opportunities to swim in Central Florida, classes on swim instruction are extremely important, no matter your age. Classes are available throughout Seminole County and many foundations provide swim lesson scholarships. There are various options for swim lessons, including ISR, community pools, the YMCA, Goldfish Swim School, Swim Sprout, etc., and other private instructors.* Taking a CPR class is also important as performing CPR immediately is essential to the chain of survival.
*SCFD does not endorse or is not affiliated with any organization or instructor.
Helpful Resources
In the News
It Happened to Us — Local Families
Wekiva's David and Jen Peacock loss of their son Wesley: Ch 13 segment
Seminole County Fire Department Firefighter Chris Martin:
Southern Living — personal tragedy inspires football player to become a firefighter
WFTV Ch. 9 — Seminole County firefighter taking steps to help to prevent child drownings
WKMG Ch. 6 — former NFL football player becomes firefighter after tragic loss
Press Releases