Irrigation Evaluations
Seminole County offers free irrigation evaluations for unincorporated water utility customers. If there is a trending pattern of high water consumption on your parcel, the Seminole County Water Conservation division will create a ticket for a licensed Irrigation & Landscape Professional to schedule an appointment for an evaluation at your home.
Complete the Irrigation Evaluation application to sign up or call (407) 665-2110 for more information.
Why Evaluate Your Irrigation System?
Residential outdoor water use accounts for roughly 30 – 60% of total household water use for the average homeowner. Evaluating your irrigation can save water and your water bill.

Approximately 88.4 million gallons of water were saved last year by those who participated in an irrigation evaluation.
How It Works
A licensed irrigation technician will arrive at your appointment and complete a visual and operational inspection of your irrigation system.

The technician will check your system's meter, timer, rain sensor and zones, and of course, check for any leaks.

Afterwards, they will provide a written report, along with a custom watering schedule and maintenance and design recommendations.

From there, the homeowner may straighten out the settings on their irrigation system or follow the recommended maintenance and design guidelines to save water, and money.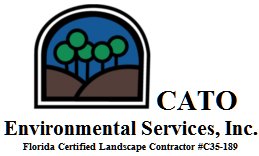 CATO Environmental Services, Inc. has been contracted by Seminole County to provide irrigation evaluations for unincorporated Seminole County utility customers. CATO is a licensed irrigation contractor that has been serving the Central Florida area since 1999. They are a progressive and knowledgeable company that has a strong focus on water conservation.

Please note, for security reasons our contractor, CATO Environmental Services, Inc., will arrive at your home with a Seminole County Contractor sign on their vehicle, as well as a Contractor Identification badge.

Click here to sign up for an Irrigation Evaluation.

There is a $35.00 no show fee, if you schedule an Irrigation Evaluation and are not present at the scheduled time.

Be sure to follow the Watering Restrictions that are in place.