Stormwater runoff is a major source of pollution flowing into our natural waterbodies. Seminole County Board of County Commissioners approved a Fertilizer Ordinance, effective February 28, 2017, that regulates fertilizers containing nitrogen and/or phosphorus and provides specific management guidelines for fertilizer application in order to minimize negative impacts to our natural waterbodies. This ordinance is for unincorporated Seminole County, but all seven cities within the County have adopted this ordinance, either in its entirety or in large part. The materials and resources below further explain the Ordinance.
Key Highlights of the Fertilizer Ordinance
Fertilizer containing nitrogen or phosphorus cannot be applied to turf during the restricted season from June 1st – September 30th. Fertilizers containing Iron, Manganese and other "micronutrients" also referred to as "summer blends" can be applied during the restricted season to keep lawns healthy and green (as recommended by Florida Yards Neighborhood/Florida Friendly Landscape Program).
Fertilizer containing nitrogen that is used during the non-restricted season (October 1st – May 31st) must contain 65% or more slow release nitrogen (as of March 1, 2020).
Fertilizer containing phosphorus cannot be applied to turf or plants unless a state certified soil or tissue test verifies that there is a phosphorus deficiency. For more information about soil & tissue testing, contact your local UF/IFAS Extension office at 407-665-5560.
Use of deflector shields are required when applying fertilizer with a broadcast or rotary spreader.
No fertilizer may be applied within fifteen (15) feet of any pond, lake, stream, canal, or other waterbody, including wetlands.
The overall goal of this ordinance is to minimize excess fertilizer runoff and protect the County's natural water resources. For more information, please review our Fertilizer Ordinance.
Seminole County Fertilizer Guidelines - Overview
Wintertime Slow Release Nitrogen (SRN) PSA
Summer Blend Fertilizer PSA
Springtime Slow Release Nitrogen (SRN) PSA
Wekiva River Basin Nitrate Sourcing Study - For more information regarding the above pie chart and study, click here.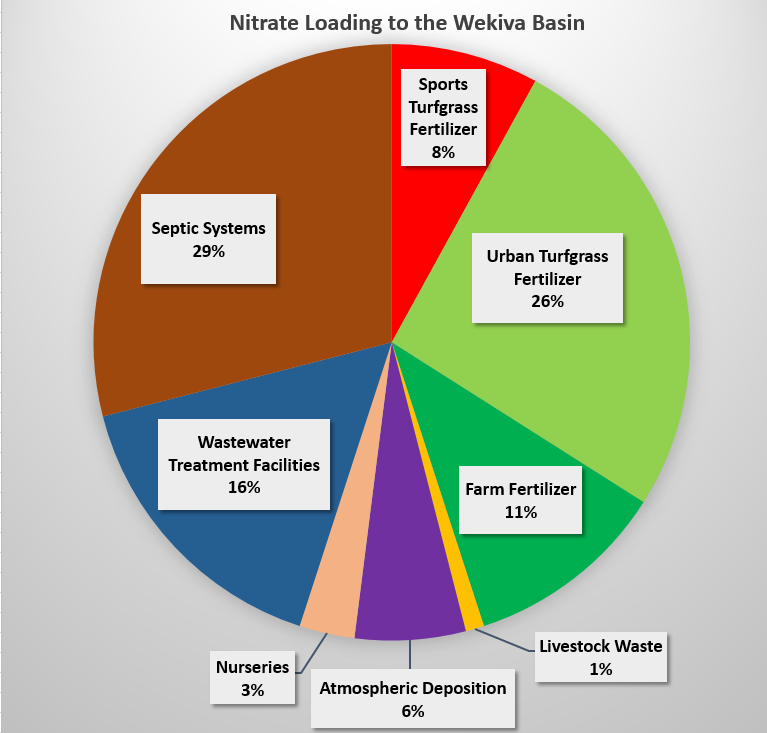 For further information on the State Fertilizer Ordinance, please see below:
State of Florida Model Fertilizer Ordinance
Ordinance Comparison Table (Seminole County and State Model)
*****************************************************************************************************************
Contact Information
Shannon Wetzel, Program Manager / Watershed Management Division Manager
Address: 200 West County Home Road, Sanford, FL 32773
Phone: 407-665-2455
Fax: 407-665-5600
Email: swetzel@seminolecountyfl.gov
Marie Lackey, Watershed Coordinator
Address: 200 West County Home Road, Sanford, FL 32773
Phone: 407-665-2424
Fax: 407-665-5600
Email: mlackey@seminolecountyfl.gov
Tina McIntyre, FFL Extension Agent
Address: 250 West County Home Road, Sanford, FL 32773
Phone: 407-665-5575
Fax: 407-665-5563
Email: KMcintyre02@seminolecountyfl.gov or K.McIntyre@ufl.edu
Tom Sacher, Fertilizer Educator
Address: 250 West County Home Road, Sanford, FL 32773
Phone: 407-665-5517
Fax: 407-665-5563
Email: tsacher@seminolecountyfl.gov