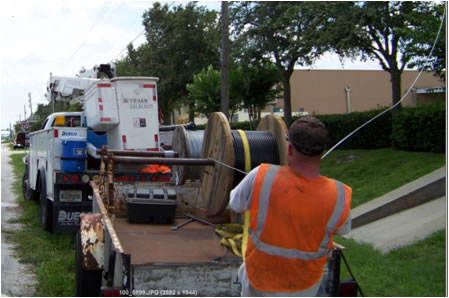 1983: Seminole County maintained 88 traffic signals.

1990: Seminole County had 198 traffic signals. At the time Seminole Country Traffic Engineering utilized copper cable for communications between traffic signals. This presented a problem because at times Central Florida may experience upwards of 3,000 lighting strikes per hour. These lightning strikes interrupted the functioning of traffic signals.

Traffic Engineering determined fiber optic cable was the way to go to help eliminate network outages resulting from lightning strikes.

1992: County maintained 224 traffic signals. Seminole County instituted the Red Bug Road widening project. This presented an optimum time to include fiber optic cable in the project to help create a traffic signal system network.

1993/94: Traffic Engineering started Phase 1 of a main trunk line from the County's 5 Points Complex heading north to Lake Mary Blvd. Phase 2 of the trunk line project ran fiber from 17-92 / Lake Mary Blvd west to Interstate 4. Once at I-4, Traffic Engineering connected into the Florida Department of Transportation (FDOT) I-4 Surveillance Motorist Information System (SMIS). FDOT allocated six fiber strands on their existing trunk line along I-4. This allowed the County fiber to extend to the crossing arterials along I-4 (SR 434 and SR 436).

During this project, Traffic Engineering realized the fiber network would be a benefit to other County departments. Traffic Engineering invited the IT Department to join in on the effort. The Fiber Wide Area Network (FWAN) Committee was formed to oversee the expansion of the network. The first County building to be included on the Traffic Engineering fiber network was the Reflections Building on Lake Mary Blvd. The Engineering Division was relocated from the 5 Points Complex to Reflections. Due to the fact that Phase 2 of the trunk line project ran right past the Reflections Building; it only made sense to connect the building. Voice and data services for the Engineering Division operate, and continue to operate, free of reoccurring service charges from local carriers.

1995/97: Seminole County, through Traffic Engineering, experienced rapid growth of the fiber network. Cabling installed on most major roadway corridors within the County.

1998/99: County maintained 273 traffic signals. First Inter Local Fiber Maintenance Agreement entered into with the City of Casselberry. New Sheriff/Public Safety building (SOPS) connected to fiber network. This expanded the fiber network through Bush Blvd.

2000: Commonplace for non-County agencies to "be on" the County network. Inter Local Fiber Maintenance Agreements were in place with Seminole State College, Seminole County Public School Board and the Cities of Lake Mary, Altamonte Springs and Winter Springs. Most fire stations at this time were connected by frame relay telecommunications which the county was paying the phone companies for connections, repairs, and maintenance. .

2001/02: The cities of Longwood and Sanford entered Inter Local Fiber Maintenance Agreement. SSC Hunt Club campus, Winter Springs Police Dept, 9 Fire Stations, and Lake Mary City Hall, among others, connected to fiber network. The redundant fiber loop from SR 434 to SR 436 was completed. School Board fiber ring was reconfigured utilizing diverse cable routes that were newly available. CR 427 linked through US 17-92 to fiber network.

2003: County maintained 335 traffic signals. Fire Stations, Water Treatment Plants, schools, and buildings were continued to be connected to the fiber network.

2004: Seminole County Traffic Engineering fiber network now named the Advanced Traffic Management System (ATMS). Estimated 30 miles of major fiber trunk upgrades completed for SR 434, SR 436, US 17-92 and SR 46. Fiber ring for Water Treatment Plants was completed. Inter Local Agreement entered with City of Oviedo for fiber connections and maintenance.

2005: Altamonte Springs, Sanford, and Orlando fiber rings were completed. Five (5) fire stations, Fire Training Center, and Sanford Airport added to fiber network.

2006: Added new 10 GB links, 72 single mode cable, 36/12 cable to upgrade some existing County facilities. New Court House connected to fiber network.

2007: County maintained 358 traffic signals. New SSC Heathrow Campus connected to fiber. Sanford fiber ring completed.

2008/09: Seminole County Public School Board received a grant to connect 19 schools to fiber network. Health Department fiber network upgraded. SSC Altamonte Campus connected to fiber network and Hunt Club Campus disconnected. Traffic Engineering continued fiber network upgrades to improve connectivity, data response time, and redundancy.

2009/10: New 10GB fiber water ring connection between Apple Valley, Lynwood, and Indian Hills Water Treatment Plant. Reconfigure Seminole State College fiber ring for redundancy. Setup new fiber connections to Seminole County Sheriff's District 7 Office, Sheriff's Office / Public Safety to Civil Courthouse, new Sanford DMS signs, Millennium Middle School to Seminole High School, and Sanford Health Department to Casselberry Health Department.


2019: Traffic Engineering has connected 149 fire stations, county buildings, radio towers and libraries, 66 schools, 6 SSC campus, 79 city buildings and 19 water treatment plants to the fiber network and maintains and repairs over 400 traffic signals, 131 school flashers at 70 locations, 46 beacons and flashers and 29 VMS (variable message signs). The fiber network consists of different types of cables and strand counts: single mode, multi mode, and hybrid. This results in approximately 1,246 active strand pair miles of fiber.

Although the County has benefited significantly from the fiber program, including the connection of a number of County buildings, Traffic Engineering's main goal and reason for the network has been and continues to be traffic safety, improved traffic signal management, citizen information and driver safety.