DURING NORMAL OPERATIONS: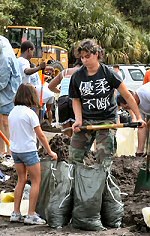 Sandbags are not generally used during normal operations and maintenance. If a resident of unincorporated Seminole County has a flooding concern, they will need to contact the Roads-Stormwater Division Customer Service Line at (407) 665-7623. This request will be forwarded to a field supervisor for evaluation. If the field supervisor determines that sandbags are needed, they will be delivered to that location. Sandbags WILL NOT be provided for businesses or detached buildings from a home.
DURING EMERGENCY OPERATIONS:
During emergency operations, empty sandbags and dirt will be available to all residents of Seminole County. Residents will be able to receive up to 15 empty sandbags at County sites. Dirt will be provided, but you will need to bring your own shovel and gloves. Filled sandbags can weigh approximately 30 pounds, so it is recommended to bring a partner to help you fill and load the sandbags into your vehicle.
SANDBAG LOCATIONS:
Seminole County:
BOOMBAH SEMINOLE COUNTY SPORTS COMPLEX

WHERE: Overflow Parking Lot, 3450 East Lake Mary Boulevard, Sanford
WHEN: Closed

RED BUG LAKE PARK

WHERE: 3600 Red Bug Lake Rd, Casselberry
WHEN: Closed

SOFTBALL COMPLEX

WHERE: 2200 North St., Altamonte Springs
WHEN: Closed
Cities:
ALTAMONTE SPRINGS EASTMONTE PARK

WHERE: 830 Magnolia Drive, Altamonte Springs (Off of S. Ronald Reagan Boulevard)
WHEN: Closed

ALTAMONTE SPRINGS WESTMONTE PARK

WHERE: 624 Bills Lane, Altamonte Springs (Off of Spring Oaks Drive)
WHEN: Closed

LAKE MARY SPORTS COMPLEX

WHERE: Ballfield Parking Lot, 440 Rantoul Lane, Lake Mary
WHEN: Closed

LONGWOOD CANDYLAND PARK

WHERE: 599 Longdale Avenue, Longwood
WHEN: Closed

OVIEDO PUBLIC WORKS MAINTENANCE YARD

WHERE: 1725 Evans Street, Oviedo
WHEN: Closed

SANFORD PUBLIC WORKS FACILITY

WHERE: 800 West Fulton Street, Sanford
WHEN: Closed