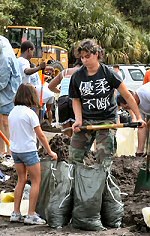 DURING EMERGENCY OPERATIONS:
During emergency operations, empty sandbags and dirt will be available to all residents of Seminole County. Residents will be able to receive up to 15 empty sandbags at County sites. Dirt will be provided, but you will need to bring your own shovel and gloves. Filled sandbags can weigh approximately 30 pounds, so it is recommended to bring a partner to help you fill and load the sandbags into your vehicle.
SANDBAG LOCATIONS
Empty bags and dirt will be available; operations are self-serve and individuals should bring a shovel and gloves.
COUNTY LOCATIONS
All County sandbag locations are CLOSED.
SANDBAG USE
---
SANDBAG DISPOSAL
If you filled sandbags before the arrival of Hurricane Ian or Tropical Storm Nicole, and you did not end up needing them/they did not get flooded, consider keeping them through the end of hurricane season (November 30) just in case. If you do wish to dispose of the sandbags, do not place them curbside for trash collection, even if they are from the County. Sandbags are your responsibility. Here are the steps you need to take to properly dispose of your sandbags -
If your sandbags did come in contact with flood water:
Do not re-use contaminated sandbags
PPE or personal protective equipment such as eye ware and gloves should be worn while dealing with post storm sandbags. Sandbags may have been exposed to contaminated floodwaters and handled with caution.
Contaminants may include petroleum, sewage and other chemicals
Sewage contaminated sandbags should be delivered to the Seminole County Landfill
Sandbags contaminated with petroleum and other chemicals may need to be disposed of as hazardous waste
Contact Seminole County Solid Waste Customer Service for additional information (407) 665-2260
If your sandbags did not come into contact with flood water:
Uncontaminated bags may be stored on your property for reuse in later events if properly dry. If wet mold can start to form.
Burlap and plastic sandbags free of contaminants may be reused and distributed around your property.
Uncontaminated sandbags may also be used in construction or other permanent earthen structures.
If sandbags are clean and empty you may dispose of them with normal trash.
Uncontaminated full sandbags may also be delivered to Seminole County Landfill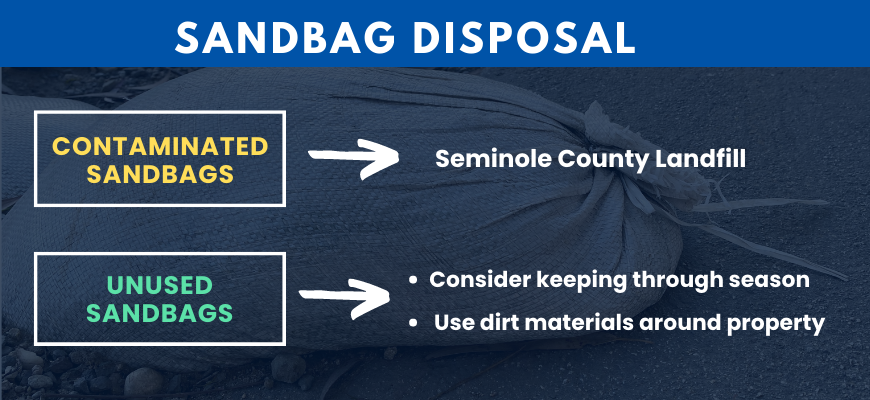 ---
Last Updated: November 11, 2022 8:38am
---