Big and Little Econlockhatchee Basin Study
CIP No. 01785335
BCC Districts 1, 2, and 4
Project Overview
Seminole County has initiated Basins Studies for the Big Econ and Little Econ drainage basins. Seminole County has not commissioned any previous studies for the Big Econ Basin and the last study for the Little Econ Basin was completed in 2001. The Big and Little Econ Basins encompass approximately 56 square-miles located in eastern Seminole County. Lake Mills, Horseshoe Lake, the Big Econ River and its tributaries including Mills Branch, Mills Creek, and Silcox Branch are some of the major water features within the Big Econ Basin. Cranes Strand Canal and the Little Econ River are the major water features within the Little Econ Basin. Both the Big and Little Econ basins extend further south into Orange County and included an upstream contributing area of approximately 209 square-miles. The basins ultimately drain north, eventually discharging into the St. Johns River just south of the confluence with Lake Harney. Within Seminole County, the basin areas are roughly 17% incorporated and 83% unincorporated. Approximately 7,900 acres are within State managed lands such as the Little Big Econ State Forest.
These basins have received significant growth since the last study was completed. The update will:
Incorporate developments and infrastructure improvements built since the previous study
Identify flood-prone areas within the basin
Estimate flood impacts to roadways and buildings
Update the 100-year flood maps
Evaluate and rank up to fifteen (15) conceptual Capital Improvement Projects that will serve to alleviate flooding
---
Public Meeting Details
This public meeting is intended to share the status of the ongoing analysis, present the results of the Existing Conditions and Level of Service phases of the study, identify potential improvement areas, and provide residents and stakeholders an opportunity to provide additional information and comments.
For your convenience, the County will be holding an in-person meeting as well as a virtual public meeting using a GoTo Meeting© platform. Persons interested in attending the virtual meeting can join online by visiting and registering at the project website. Additionally, the pre-recorded video presentation and any other pertinent information will be available online from June 2, 2023 to June 20, 2023, at the project website.
Both the virtual GoTo Meeting© platform and in-person meetings will occur at the same time on June 6, 2023, beginning at 6 p.m. See below for additional information on viewing options:
In-Person, Live Meeting: Those who wish to participate can attend the meeting starting at 6 p.m. at Covenant Presbyterian Church (1925 County Road 419, Oviedo, FL 32766). Attendees will have an opportunity to come anytime between 6 p.m. and 7:30 p.m. to view an informational presentation and project displays, speak with project team members, and provide comments.
GoTo Meeting© Registration Link (for home viewing): Please register in advance for this event. Once registered, GoToWebinar© will send you an email from customercare@gotowebinar.com with your login information. If you have any issues registering in advance, please contact Amanda Ashby at aashby@inwoodinc.com for assistance. https://attendee.gotowebinar.com/register/62513164212311135
ADA Accommodation: Persons with disabilities needing assistance to participate in these proceedings should contact the Human Resources ADA Coordinator 48 hours in advance of the meeting at 407-665-7940.
Public participation is solicited without regard to race, color, national origin, age, sex, religion, disability, or family status.
---
Project Map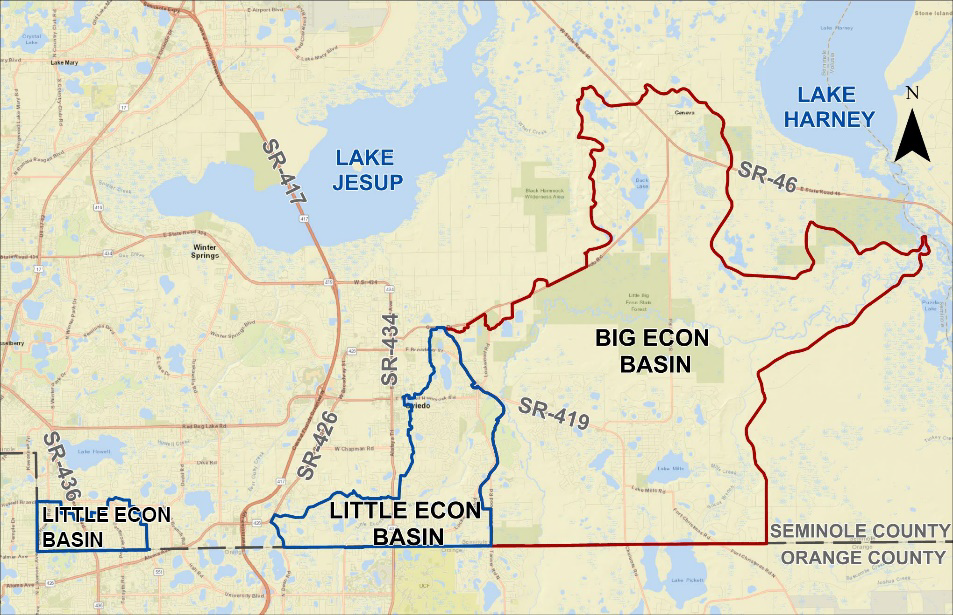 ---
Project Documents
Coming Soon
---
Send Us Your Feedback
There are several opportunities to submit questions and comments regarding this project. Comments for this project will be accepted from June 2, 2023 to June 20, 2023. All comments received by June 20, 2023, will become part of the project record.
Submit questions and comments via:
E-mail: Jeff Sloman, P.E., Seminole County Public Works Project Manager, at jsloman@seminolecountyfl.gov, Subject line: "Big and Little Econ Basin Study – Public Feedback".
Telephone: Call 407-665-5572 and cite your questions and comments under the "Big and Little Econ Basin Study".
U.S. Mail: Seminole County Public Works – Engineering Division, Re: Big and Little Econ Basin Study, 100 East 1st Street, Sanford, FL 32771.
In-Person: During the in-person, public meeting on June 6, 2023.
Using the feeback form below on this webpage.
In all cases, please provide the following helpful information:
Name and phone number
Address and/or location of drainage issue
A brief description of the issue, including when/how often it occurs
The inclusion of photos or other relevant documentation is helpful. Please note that any material submitted will become the property of Seminole County and will not be returned. All submitted comments will receive a written response after June 20, 2023.
---

Seminole County's One-Cent Sales Tax for County Infrastructure, known as the Penny Sales Tax, is levied on the sale of consumer goods to visitors, residents and businesses, ensuring the cost to construct and maintain infrastructure is shared. The Penny Sales Tax funds local projects, including stormwater systems, sidewalks and roadways, capital improvements to public safety, and enhancements to Seminole County Public Schools facilities. Currently in its third generation, the Penny Sales Tax is expected to generate on average $81 million per year in non-ad valorem tax revenue.