Board of County Commissioners Meeting Participation Procedures Have Resumed Regular Operations - Read More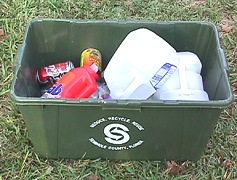 The Seminole County Solid Waste Management Division offers residential recycling collection service to all households in the unincorporated Seminole County area that participate in the curbside collection service.


Look up your recycle collection day.

Request recycle bin(s).
The following items ARE accepted in the curbside recycling program:
Pasteboard (i.e., cereal boxes, empty paper towel and toilet paper rolls, soda boxes, beer boxes, tissue boxes, gift boxes, pizza boxes and shoe boxes)
Brown paper grocery bags (no wax, no wet strength material, no liners)
Corrugated cardboard (flattened and cut down to fit inside the recycle bin)
Newspaper, supplements, magazines and catalogs
Box Board, Carrier Stock, White and Colored Paper
Plastic Containers #1-7 (#'s on bottom of containers) Remove all lids
Glass bottles and jars (clear, green and brown) Remove all lids
Aluminum cans
Steel cans and tin household containers, such as food cans
Telephone Books
Please rinse out all containers and discard lids
These items ARE NOT included in the curbside recycling program:
Plastic Bags
Plastic Cups
Paper Cups (Wax Lined)
Paper Plates (Wax Lined)
Motor oil or pesticide containers
Light bulbs or drinking glassware
Aluminum foil or pie plates
Paint or pesticide cans
Electronic devices
Styrofoam trays/egg cartons

Search where to recycle at Earth911
Your assistance in keeping these items out of the recycling stream is appreciated!
CALL (407) 665-2260 FOR A NEW RECYCLING BIN