E-911 Administration
DINA WALKER, 911 PROGRAM MANAGER
9-1-1 OPERATION IN SEMINOLE COUNTY
The Seminole County 911 System operates under the State Emergency Number Plan administered by the Florida State Division of Management Services. The State plan establishes the Board of County Commissioners in each County as the responsible fiscal agent. Therefore the responsibility and authority for 911 within a County ultimately rests with these bodies.
The Board of County Commissioners in many counties has designated a knowledgeable individual to act as the 911 coordinator. In Seminole County that position is the E911 Program Manager who administers the 911 system.
The E911 Program Manager is responsible to the Board in ensuring that the County 911 System meets or exceeds the technical and operational standards of the State of Florida E911 Plan.
The Seminole County Emergency Number System includes the following Public Safety Answering Points (PSAPs): Seminole County Public Safety, Seminole County Sheriff's Office and Winter Springs Police Department.
---
GENERAL DUTIES AND RESPONSIBILITIES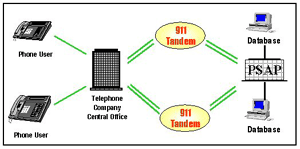 The general responsibilities of the County 911 office include the technical and fiscal administration of the County 911 system. This includes:
Oversight of training for PSAP operators in various issues (such as operation of logging recorder equipment, T.D.D. (Telecommunications Device for the Deaf) equipment, Positron call answering positions, and other equipment used in the PSAP environment)
Insuring PSAP equipment works properly and efficiently
Administering the monies collected from 911 surcharge fees
Evaluation of new equipment
Compilation of statistical records regarding 911
Working with addressing authorities, telephone companies and G.I.S. personnel to provide for the accuracy of the 911 database
Planning for expansion and enhancement of the 911 system in Seminole County to reflect changing and updated technology
Various other duties as required