Backyard Chicken Program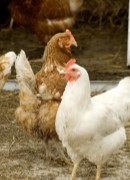 We are pleased to announce that upon the success of our two year pilot program, the Seminole County Board of County Commissioners has approved the permanent Backyard Chicken Program for all occupied, single-family residential lots in Unincorporated Seminole County. This now expands this program's availability to residents outside of the previously restricted zoning classifications.
A University of Florida IFAS Extension class on the care and raising of chickens is required for all applicants.
Please utilize the resources below to assist with the application process. If you have additional questions, please contact Planning and Development at (407) 665-7371 or plandesk@seminolecountyfl.gov.
Seminole County UF Extension Services will post available classes on their FaceBook page.