Lakewatch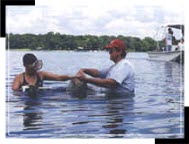 Florida LAKEWATCH is currently the only research program gathering monthly data to study such a large number and a wide variety of Florida's lakes.
This program is sponsored by the University of Florida. If you have access to any type of boat, can spend two hours each month on your lake, and are willing to monitor for a least a year, you might be eligible for the Florida LAKEWATCH volunteer program.
Participants in the Florida LAKEWATCH program receive:
A newsletter subscription
Use of sampling equipment
Training in monitoring procedures
Periodic reports and an annual report
Access to lake experts (limnologists)
For more information about how you can become a LAKEWATCH volunteer, contact Michelle Shelton at (407) 665-5269 or e-mail mshelton@seminolecountyfl.gov or Jason "Mo" Bennett, Florida LAKEWATCH Regional Coordinator at 352-273-3639 or jpb@ufl.edu. You can also visit the LAKEWATCH website at http://lakewatch.ifas.ufl.edu.