SERV Invasive Removal Project
Invasive species are a major problem in Seminole County and we need a ton of help!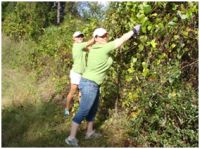 Help restore the ecosystem function and habitat value of our lakes, rivers, and protected lands by joining our invasive removal projects.
On these wonderful projects, you'll work in a beautiful outdoor setting alongside SERV, Seminole County Greenways and Natural Lands, and Lake Management Program biologists to remove harmful invasive plants.
Current Health Safety Guidelines for COVID-19:
This volunteer opportunity will tentatively be available in Fall 2020. Please read our SERV Event Guidelines for Health Safety for more details on event logistics once invasive removal projects resume.
Why join the effort?
Invasive species can destroy native ecosystems and lead to a loss of overall biodiversity.
Brought into Florida either by trade, transport or agriculture
Can thrive here due to our subtropical climate
Lack natural competitors, predators and may have adaptations that our native species do not.
Outcompete our native species for light, space, nutrients, water and food
Are the #1 threat to listed species survival after habitat destruction
Cover nearly 2,000,000 acres of Florida's natural areas (FDEP)
We typically have invasive removal projects throughout the year; these volunteer opportunities will tentatively be available again in Fall 2020. When invasive removal projects resume, we open events up to the public, and we can also cater a special event just for your group! To sign up or if you need further info, please email serv@seminolecountyfl.gov or call (407) 665-2457. Please also visit the Wekiva Wild & Scenic River System webpage; we organize invasive plant removal events with the Wekiva Wild & Scenic River Ambassador to help protect these critical waterways.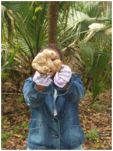 Please contact serv@seminolecountyfl.gov to find out about the annual Air Potato Raid. If you are participating in the Casselberry site this year, you will be asked to fill out a specific liability form for the City of Casselberry (click HERE for this form). All other invasive species removal events require the Seminole County SERV liability form, found on the main SERV Program page.