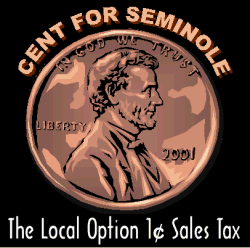 On September 4, 2001, residents of Seminole County voted by referendum to renew the Local Option One Cent Sales Tax, designed to specifically address and fund the community's needs for capital improvements in the areas of transportation and education. The referendum specified revenues would be used only for funding transportation needs throughout Seminole County of road, sidewalk and pedestrian safety projects such as:
Renovation
Improvement
Reconstruction
Construction
Improvements to the Infrastructure of the Seminole County School system
The original referendum passed in 1991 and ended on September 30, 2001. Collection of the new 2001 one-cent sales tax began on January 1, 2002 and will be in effect for ten years through December 31, 2011.
BALLOT INFORMATION
Results

2001

1991

FOR

72.4%

60.1%

AGAINST

27.6%

39.9%

TURNOUT

21.0%

17.5%
BASIC TAX INFORMATION
The total sales tax rate that applies to Seminole County taxable transactions is as follows:
Through September 30, 2001 ? 7%

October 1, 2001 through December 31, 2001 ? 6%;

Beginning January 1, 2002 ? 7%.
All sales tax rate and collection matters are administered by the State Department of Revenue.

If you have questions or concerns, please contact the Department of Revenue / Tax Information Services, 8:00 a.m. to 7:00 p.m., ET, Monday through Friday, excluding holidays, at 1-800-352-3671 or / 1-850-488-6800. You may also obtain information through their Internet site at www.myflorida.com/dor

Hearing or speech-impaired persons may call the TDD at 1-800-367-8331 or 1-850-922-1115.

For a detailed written response to your questions, you may also write:
The Florida Department of Revenue
Tax Information Services
1379 Blountstown Highway
Tallahassee, Florida 32304-2716