3D Printing Services
3D Printing: The process of creating a physical object from a design supplied as a digital file.
The Seminole County Public Library now provides an opportunity for our patrons to submit projects to be printed using our PRUSA 3D Printer. Digital files can be self-created or downloaded from a web-based, design-sharing site.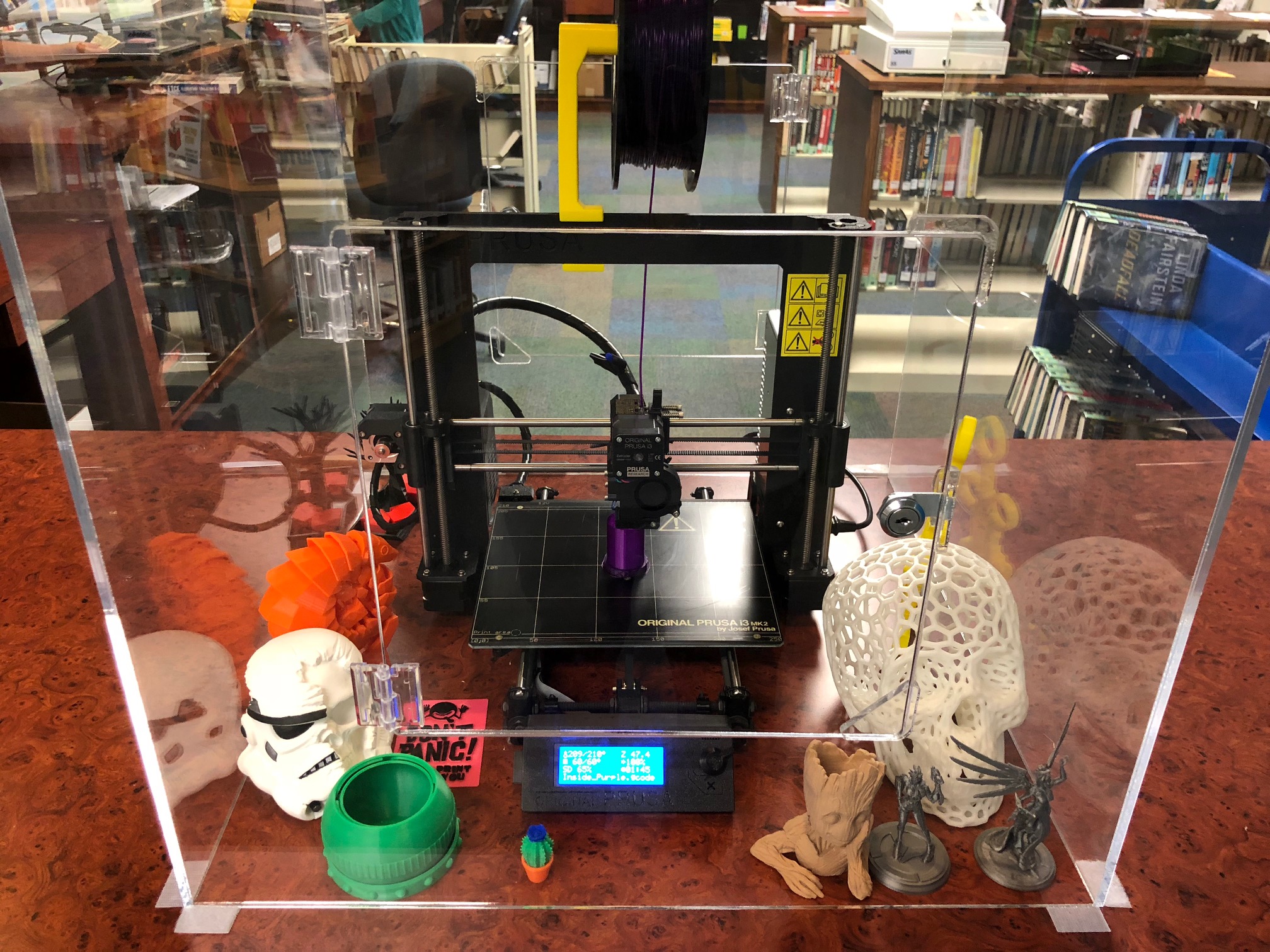 Specifics:
Users of this service must agree to the library's 3D Printing Policy
Print requests are handled on first come/first serve basis.
The library will only schedule one print per patron at a time
In the event of a high volume of requests, librarians reserve the right to limit prints to 5 requests per month per person.
Librarians will send an email when the print job is received and again when it is complete. Please check your spam folder if you don't receive the emails.
Design:
Patrons must supply their own design file for printing and will be responsible for editing and troubleshooting your file.
Files must be in .stl
Maximum size: 25 x 21 x 20 cm (9.84 x 8.3 x 8 in)
Maximum print time: 8 hours
LinkedInLearning.com is available through the library and offers tutorials on modeling software to assist in your design.
File-sharing sites like thingiverse.com and myminifactory.com offer free designs online.
Color choices:
| | | | |
| --- | --- | --- | --- |
| | | | |
| Black | White | Gray | Glow in Dark |
| | | | |
| Yellow | Orange | Red | Pink |
| | | | |
| Light Blue | Blue | Purple | Green |
| | | | |
| Silk Green | Antique Gold | | |
Costs:
$0.35 per meter of filament used with a minimum charge of $1.00
Print charges are based on the length of filament used.
Most print jobs will cost between $1.00 and $5.00
You will receive an email when the print job is complete.
You have 14 days to pick up your print job at one of the following locations:
Central Branch
East Branch

215 N. Oxford Rd.
Casselberry, FL

310 Division St.
Oviedo, FL
Northwest Branch
North Branch

580 Green Way Blvd.
Lake Mary, FL

150 North Palmetto Ave.
Sanford, FL

West Branch

245 N. Hunt Club Blvd.
Longwood, FL
Payment will be collected at the time of pick-up.
Other:
Save a copy of your project! The file you submit to us will be deleted upon being printed.
Only library staff will have access to the 3D printers.
The library retains the right to refuse any print request for any reason.
Please contact 3dprintersignup@seminolecountyfl.gov if you have additional questions.
3D Print Request Form