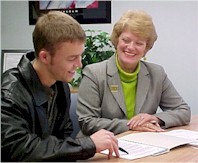 The Grants Administration is an integral part of Seminole County Government. Its purpose is to promote the goals of Seminole County through pursuit, acquisition, and efficient management of grant funds from external sources for all County departments. Grants Administration reports to the Director of Resource Management and is located in the County Services Building at 1101 East First Street (3rd floor), in Sanford, Florida.
In addition to all the primary functions that the Grants Administrator performs, we continually encourage all departments and staff to pursue grants. There are many tools that may help you prepare your proposal and some information that may be helpful is included in this site. For additional information, please call 407-665-7176.
THE AMERICAN RECOVERY ACT
The American Recovery and Reinvestment Act of 2009 ("Stimulus Act") was signed into law by President Obama on February 17, 2009.
PARTNERSHIPS WITH COMMUNITY AGENCIES
Seminole County welcomes opportunities to collaborate with community agencies to pursue external grant funding for the benefit of our citizens. Utilizing resources from multiple agencies allows the opportunity for gaps in service to be filled, resulting in greater efficiencies to meeting citizen needs. To any interested agencies, please submit a Grant Partnership Application to the Grants Administrator for consideration. Applications will be evaluated for compliance with BCC Administrative Code 22.20(E) – Partnerships with Outside Agencies. For additional information, please contact the Grants Administrator at (407) 665-7168 or gwoodring@seminolecountyfl.gov .
EXTERNAL FUNDING SOURCES
Locating grant funding at the federal, state, or local level is a multifaceted process. Please visit our External Funding Source page for a list of external sources for funding at the federal, state, and local levels.
PROJECT IDEAS
Discover training for all departments, divisions, and for area nonprofit organizations. Review the County policies and guidelines.
GRANT PROPOSALS
Looking for technical assistance and information on planning and delivering grant projects? Check our Grant Proposals page for a list of helpful resources.