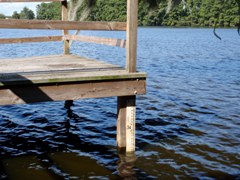 In Seminole County, lake levels can change seasonally and annually. During periods of below-normal rainfall lake levels drop, at times becoming so low that boating access becomes limited. Lake levels may continue to decline for several years, impairing the use of docks and affecting lakeside property owners. Lake levels generally rebound, at times leading to water levels so high that lakeside property owners may experience too much water. During this time, low water levels and exposed lake bottoms have occurred during our drought conditions and are unattractive to many lakefront property owners. Fluctuating water levels are normal and healthy for our lakes.
Benefits of the low water levels are:
Growth of new vegetation on exposed lake bottom and adjacent marshes due to increased seed germination;
Improved habitat for fish and other aquatic organisms, and improved water quality as a result of increased vegetation growth;
Improved water quality due to organic nutrient-rich lake sediments compacting and decomposing when exposed to the air.
The Seminole County Roads-Stormwater/Surface Water Quality Team monitors over 145 lake and stream gages monthly. This data is used:
To access historical conditions of our lakes.
To plan new stormwater improvement projects.
Homeowners who are concerned with water level changes.
For further information, visit our Seminole County Watershed Atlas at www.seminole.wateratlas.org or contact Marie Lackey at 407-665-2424 or mlackey@seminolecountyfl.gov.