What is this Program?
The Seminole County Adopt-A-Road Program is designed to involve the public in keeping Seminole County's roadways and waterways free of litter and debris, promoting watershed awareness, and engaging in stormwater education.
Current Health Safety Guidelines for COVID-19:
This volunteer opportunity IS currently available; however, please read our SERV Event Guidelines for Health Safety and Volunteer Screening Questionnaire for more details.
Why is your Help Needed?
With the amount of trash littered on the roadside every day, your involvement is becoming increasingly important. Adopt-A-Road allows citizens to demonstrate community pride, make a positive statement for a clean and attractive community, and have a better understanding of stormwater pollution.
What Does it Mean if My Group Adopts-A-Road?
Volunteers (individual or groups) must sign an Adopt-A-Road permit for one year. The length of road adopted may vary. Each group is responsible for cleaning the adopted roadway at least four (4) times throughout the permit year. A minimum of one (1) stormwater education presentation must be attended by the group along with a minimum of one (1) storm drain marking project. Also, every volunteer (adult or child) who participates during a cleanup must have filled out an Individual Hold Harmless & Indemnification Agreement to participate (see the "Event Sign-in / Liability form", below). This agreement is valid for one (1) year.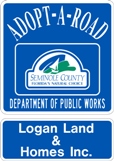 How Can I Volunteer?
If you are interested in volunteering to Adopt-A-Road, please contact us using the information below. We will be happy to let you know which roadways are available, and match you up with a roadway that is in need of adoption!
Tia Welty, Adopt-A-Road Coordinator
Phone: (407) 665-7623
E-Mail: TWelty@seminolecountyfl.gov
What Forms are Required For the Adopt-A-Road Program?
Adopt-a-Road Permit
Conditions, Safety Measures and Important Numbers
Event Sign-in
&
Liability Form
Record of Event

How Can I Spread the Word?
Who Do I Contact for More Information?
KEY PERSONNEL