Orange Boulevard Safety Improvements Design Project - Phase 2
From State Road (S.R.) 46 to Monroe Road
CIP No.01785303
Orange Boulevard Safety Improvements Design Project – from State Road (S.R.) 46 to Monroe Road (C.R. 15), Seminole County, Florida - Project CIP 01785303
Seminole County is currently designing and then constructing safety improvements for Orange Boulevard from State Road (S.R.) 46 to Monroe Road (C.R. 15). The goal of the project is to promote safety, address drainage deficiencies, enhance pedestrian and bicycle continuity, and improve access throughout the project corridor.
Previously as a part of this project's Phase 1 alternatives analysis, a public meeting was held on January 24, 2019, to present alternatives to achieve the safety and mobility goals. Alternative 1 consisted of building a two-lane divided urban roadway with a raised concrete median including the addition of left turn lanes, bicycle lanes, curb and gutter, 5-foot-wide sidewalk, and a 10-foot-wide shared-use path. Alternative 2 consisted of a three-lane undivided urban section with a two-way left turn lane, along with bicycle lanes, curb and gutter, 5-foot-wide sidewalk, and a 10-foot-wide shared-use path. Public comments were received and taken into consideration in the refinement of the design.
The Seminole County Board of County Commissioners then reviewed the alternatives and at the Board Workshop on March 12, 2019, directed County staff to proceed with a hybrid alternative to address access and other resident concerns and input. This hybrid alternative consisted of a combination of Alternative 1 from SR 46 to North Oregon Street, and Alternative 2 from North Oregon Street to Monroe Road. Comments from the Board as well as those received from the public during the course of the project have been taken into consideration in the proposed improvements. Acquisition of right-of-way will be required to complete the project.
The purpose of this website is to present the status of the final design plans and allow residents and interested persons to learn more about the proposed project improvements, ask questions and provide comments. This website also includes a short video presentation about the project as well as opportunities for public feedback from August 15, 2020 to August 25, 2020.
Covid-19 Notice: Due to the current Covid-19 related social distance measures enacted at the National, State and County levels, this webpage has been prepared to allow increased online feedback from all stakeholders including residents, sidewalk users, and all interested parties.
The County will also hold a virtual project update meeting using the Zoom platform on Thursday, August 20, 2020, beginning at 5:30 p.m. Persons interested in attending the virtual meeting can join online by visiting and registering at the link to be provided here: https://zoom.us/webinar/register/WN_QfZ7NQoSQo2p7tcI2Rf1dg
---
Project Location Map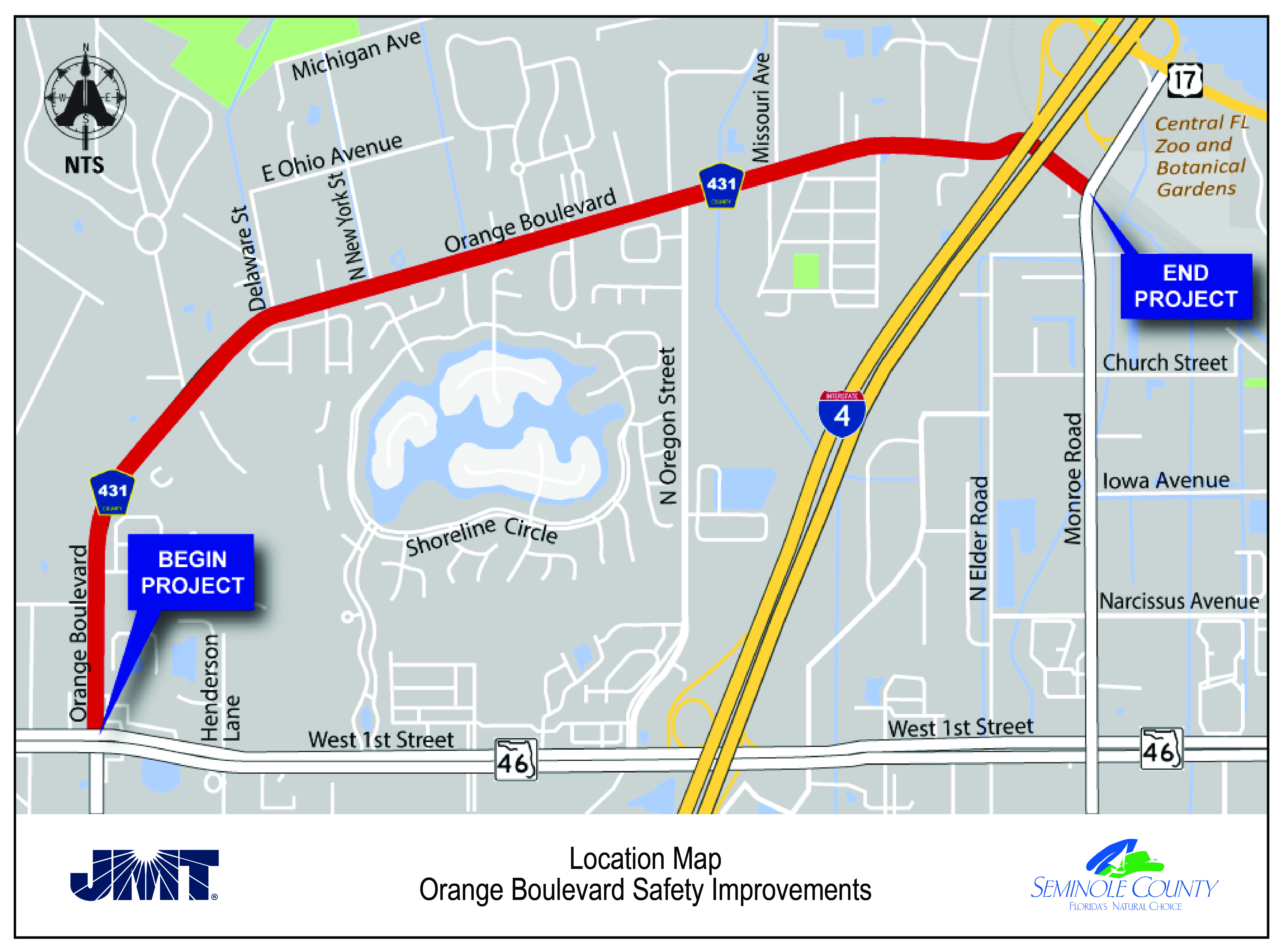 Proposed Typical Sections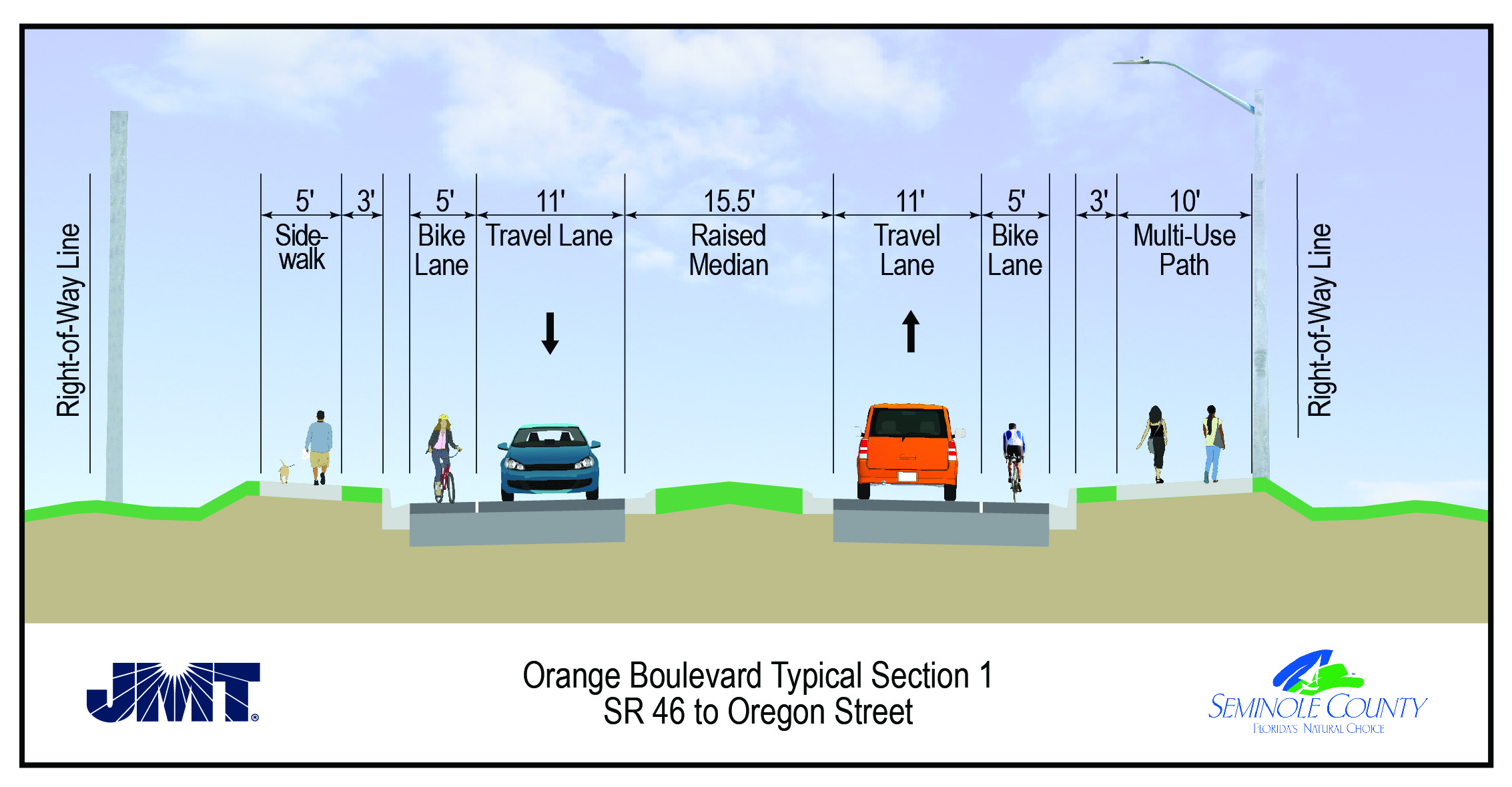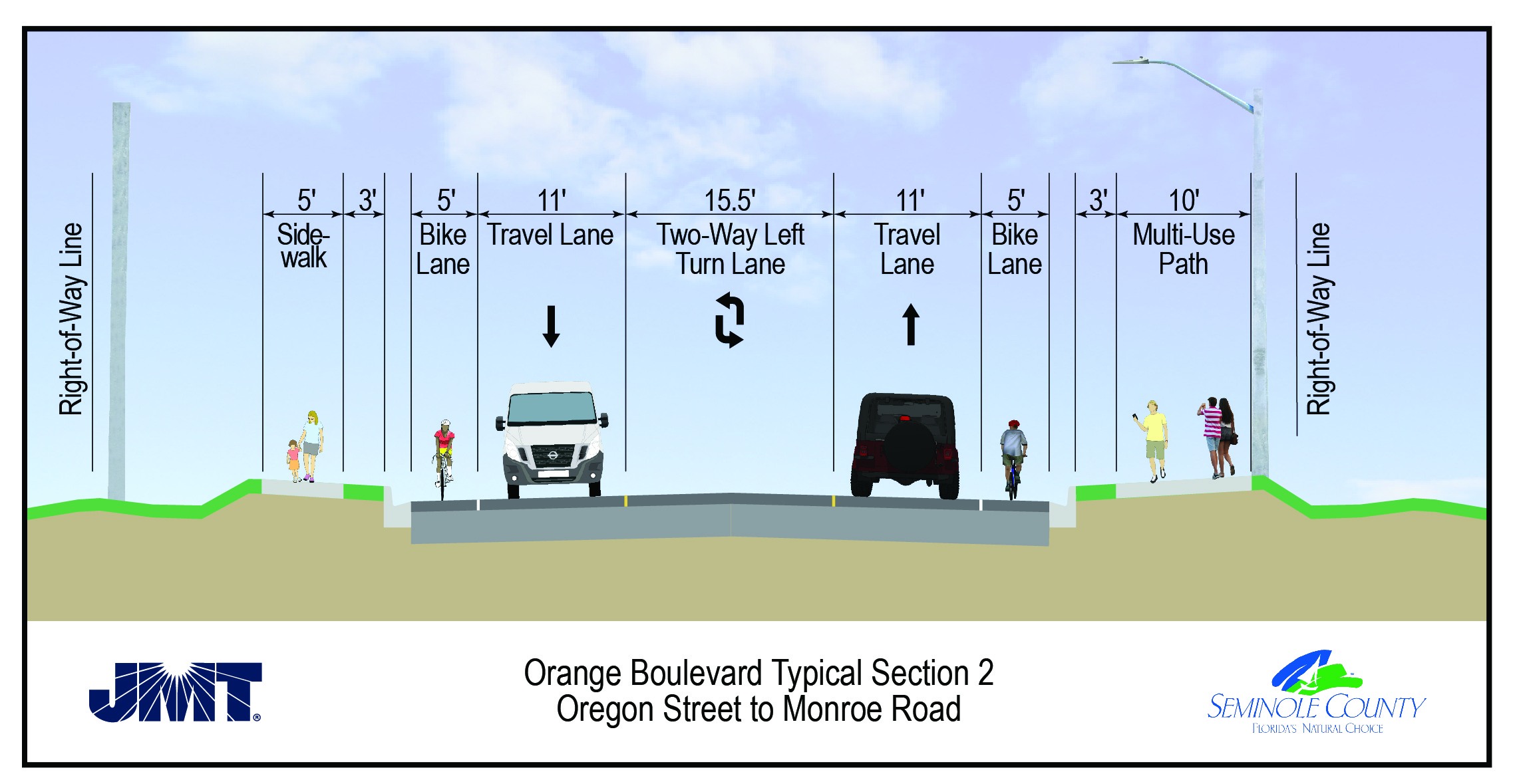 ---
Project Presentation
---
Project Documents
---
Send Us Your Feedback
There are several opportunities to submit questions and comments regarding this project. Comments for this project will be accepted from August 15, 2020 to August 25, 2020. All comments received by August 25th, 2020, will become part of the project record.
Submit questions and comments via:
1. E-mail: Greg T. Smith, P.E., Consultant Project Manager, JMT, at gsmith@jmt.com or Seminole County Assistant County Engineer Matt Hassan, P.E., at mhassan@seminolecountyfl.gov , Subject line: "Orange Safety Improvements Project – Public Feedback"
2. Telephone: Call 407-665-5772 and cite your questions and comments under the "Orange Boulevard Safety Improvements Project"
3. U.S Mail: Seminole County Public Works – Engineering Division Re: Orange Blvd Safety Improvements Project 100 East 1st Street, Sanford, FL 32771
4. During the virtual public meeting on August 20th, 2020.
5. Using the Feedback Form below on this webpage.
If you desire accommodation under the Americans with Disabilities Act (ADA), please contact the ADA coordinator Maria Ribas by email at MRibas@seminolecountyfl.gov, or by phone at 407-665-7941. Public participation is solicited without regard to race, color, national origin, age, sex, religion, disability, or family status.