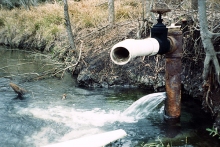 An artesian well is a well that has been drilled into a rock formation that contains water confined under pressure (an artesian aquifer). In Seminole County, many wells were drilled years ago for agriculture, and some are still used for this or other purposes. Some artesian wells, however, have been "abandoned." Basically an abandoned artesian well is one that has no flow control on it or the well casing is deteriorated and water is flowing or seeping onto or under the ground. An abandoned artesian well may also be one whose use has been permanently discontinued
(Ch. 373.203 FS).
Though indefinitely suspended, St. Johns River Water Management District (SJRWMD) and Seminole County had a joint agreement to equally share the cost of permanently plugging abandoned artesian wells in Seminole County, with owner consent. Abandoned wells are plugged by pumping grout cement through PVC pipe into the bottom of the well. Since the SJRWMD/Seminole County Cost Share Program began in 1992, over 345 wells have been permanently plugged or repaired; stopping a potential 33.7 million gallons per day of groundwater from being discharged, and protecting one of our most valuable natural resources.
Even before this program was suspended, activity in the Abandoned Artesian Well Plugging Program was diminishing, mainly for two reasons: increased awareness of water conservation and development of much of the agricultural land in Seminole County.