Internship/Volunteer
Internship/Volunteer
VOLUNTEER - Get Involved!
Make A Difference
Seminole County relies on community volunteers, non-profit, and faith-based organizations before, during, and after times of disaster. Volunteering is an opportunity to provide invaluable service to your County and community in times of need. As a volunteer, your training may make the difference between life and death for yourself, your family or your neighbors. Click Here for Volunteer Packet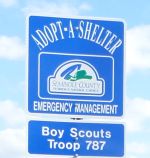 Adopt-A-Shelter Program
The Adopt-A-Shelter Program is an opportunity for any non-profit, faith-based, or private organization to demonstrate community involvement and support for the County's emergency shelters in a disaster. This program provides support for shelters and citizens in times of need. When you adopt a shelter, your agency's name will be displayed on a sign and placed near the shelter to acknowledge your efforts.

Be Part of the Volunteer Team
Contact the Seminole County Office of Emergency Management for further information at 407-665-5102.
-
INTERNSHIP
Seminole County's Office of Emergency Management Internship Program offers a highly competitive opportunity for students and recent graduates to gain valuable experience in the expansive field of emergency management. Since its inception in January 2005, highly qualified students have successfully obtained positions in emergency management and homeland security offices throughout the Country.
-
Students who intern with the Office of Emergency Management will be able to use the experience to build resumes and gain valuable networking options. There will be opportunities to engage in highly substantive and meaningful projects to gain in-depth knowledge of the field.
-
The internship should be at least three (3) months in length so the student can gain enough experience in the emergency management field to benefit him/her in the workplace. To qualify for an internship program, please e-mail your resume and internship packet to the Office of Emergency Management Aaron Funk, afunk@seminolecountyfl.gov. Click Here for Internship Packet